Huston, Pudwill and Rodriguez at the podium
After a rough battle between the four most profitalbe riders these days, Nyjah did ti again, and took back home the jackpot and the respect for all the crew at the San Francsico course. The decision was difficult, but the judge finnaly decided to give Huston the big prize. The second place was for the charismatic DVS rider Torey Pudwill, which with tight and pretty technical tricks impressed the crew and the local judges. The third place was given to P.Rod, who dominated the course with perfectly landed switch and nollie tricks.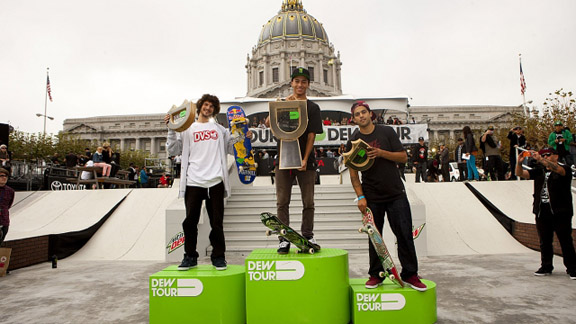 The crew at the SF course.
To end up the show, the organization prepared a show with Nyjah's personal friend Lil' wayne, who after winning millions thanks to the rap music bussines now is really comitted to the skateboarding scene and progress. According to Huston, current Dew Tour Toyota City champeon, "
It's great to have Lil Wayne out there supporting skateboarding".
Also, it's important to highlight the participation of Latin American pro riders, sucha as Milton Martinez (Argentina) and Felipe Gustavo (Brazil) who won the fourth and fifth place respectively.
Weezy performing at the Toyota City Championships